The 1.3.x versions worked fine for me on a USB stick created using unetbootin as does 1.5.0 and 1.5.1, the 1.5.3 and higher versions including the most recent beta do not. It appears to stem from the new boot menu?
I have 2 computers I have tried this on and they both have the same problem, as seen in this screenshot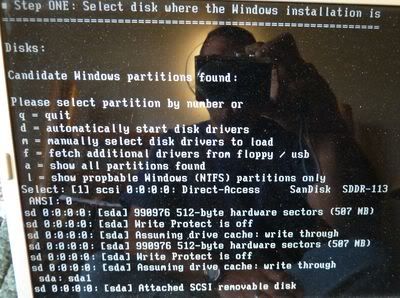 This displays when selecting DEFAULT in the menu, and then no option seems to work, it just keeps repeating the "Please select partition by number or:" menu.
In the past 1.3x I needed to use altker32 for it to work, but I don't see that option any more.
Dell E1505 and MSI u100 both have the same problem with the 1.5.3+ builds failing when booting from USB. The MSI does not have a built in CD/DVD drive, so I'd like to figure out how to get the USB sticks working again, ideally with unetbootin as the creation tool since that has worked great in the past and is recommended on the
http://www.sysresccd.org/Sysresccd-manu ... _USB-stick
page. It appears to install correctly, just not run properly.
I'd like to get to the old "Wizard" menu so I can select gparted, shell, partimage etc. Basically for system partition creation and imaging.